Custom containers for Suraxani Ship Museum
Custom containers for Suraxani Ship Museum
Highlights
We provide wide range of lubricants from different brand names such as: Gulf Marine, TEXACO, Prista-Oil, ERGON, and Verila.
We serve lubricants in 900 ports all over the world (See International Port Directory).
We do Invesntory Management & Consignment Stock for clients.
Our operations in steel trading include production quality testing, storage, and logistics.

Lubricants We offer


Main Lubricants

System Oils
Trunk Piston Engine Oils
Cylinder Oils
Auxiliary Lubricants

Transmission & Gear Oils
Compressor Oils
Hydraulic Oils
Turbine Oils
Engine Oils



Synthetic Lubricants
Greases
Environmentally Acceptable Lubricants


We are on call 24/7 for business developments and customer service. This is made possible through the our corporate offices and area sales agents in different continents of the world.
Gulf Marine Products
Browse through our full catalogue, to see wide range oflubricants we offer all around the world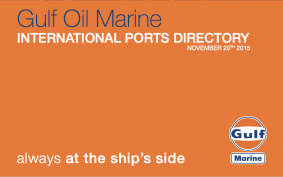 Ports We Serve
Click below to see 900 ports we serve around the world